OUR FUN AND CARING TEAM WILL MAKE YOUR VISIT A MEMORABLE ONE!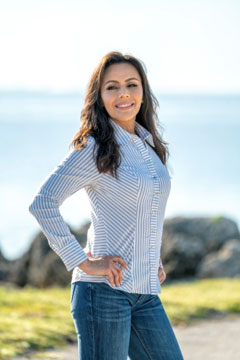 Hello, I am Dr. Mayling Molina and I would like to welcome you to our orthodontic centers. As the vice-president of the Doral Center for Orthodontics and the Miami Center for Orthodontics, I get to be directly involved in making sure your experience with us is optimal. I personally select every member of our team and make every decision with you in mind.
My first priority is you the patient, your smile, your comfort, and your well-being. I am personally involved in every important decision we make to ensure that our customer service philosophy and our high standards of care are maintained throughout your entire orthodontic process.
One of the things I love the most about our orthodontic team is that we are passionate about being part of transforming patient's lives, and this passion is reflected in how much fun we have while creating beautiful, confident smiles.
Next, I will introduce to you a group of talented people that will provide you with the best service and the best treatment available in the field of orthodontics.
---
Meet Our Team
Clinical Team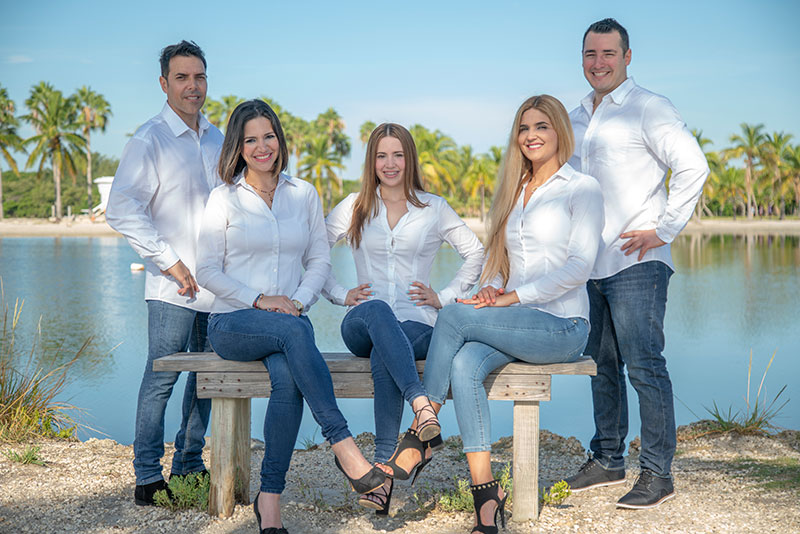 Administrative Team
---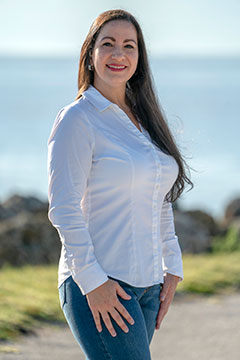 Susan
Financial Coordinator
I have been a financial coordinator since 2013. I enjoy helping patients and parents with their financial needs and treatment concerns. I love getting to know our patients and helping them reach their goal, which is a beautiful smile. I am dedicated to helping each person who visits us to have a wonderful experience. It is a great satisfaction for me to know how changing someone's life can be so rewarding. We have an exceptional team, and we all strive to provide the best service for our patients. I feel very happy coming to work every morning and knowing that we are changing patients' lives.
I am originally from Costa Rica. I am happily married, with two beautiful children and the cutest Chihuahua ever, named Bella. I am very family oriented and love spending quality time with them. I enjoy going to the movies and the beach.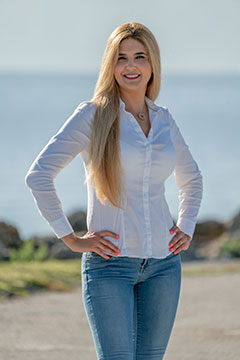 Grety
Orthodontist Assistant
I am originally from Cuba. As a child, I dreamed of working in the dental field. When I came to the USA, I made my dream come true and became a certified orthodontic assistant. My favorite part of my job is seeing the final results on each and every patient. I feel great satisfaction when they get braces removed and their smile is revealed. I love to see their happy faces and how they are proud to show off their new smile. I feel a high level of respect and professionalism in the office among my team members. The harmony and happiness that characterizes the entire team is not easy to find, and I am very happy to be part of it.
I have a wonderful family! In my free time, I enjoy spending time with my family playing outdoors and enjoying nature.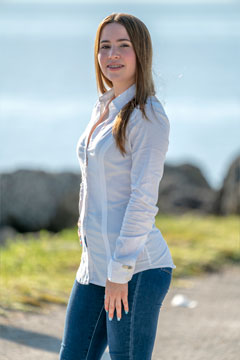 Rocio
Sterilization Assistant
Since I started working at the Orthodontic Centers in 2018, being a sterilization assistant has become more than just my job, it has also been my hobby. I love the supportive team environment we have in the office, and it is such a blessing to work with the doctors and staff. Every day, we work hard and as a team, improving ourselves and giving the very best customer service to all of our new and existing patients. The part of my job I enjoy the most is being able to give every person the best attention possible. Patients come here because they want to improve themselves and make a positive change in their lives, and I love helping them achieve this.
Working at the Orthodontic Centers has helped me grow as a person and has been a huge confidence boost in terms of what I want for my future.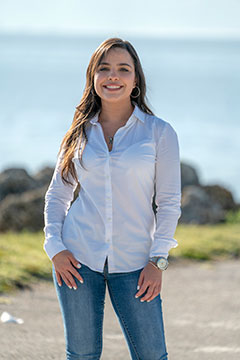 Analy
Financial Coordinator
I've been working in the orthodontic field for more than five years as an orthodontic assistant and now as financial coordinator. I've always been passionate for working with people and providing the best service possible. To be part of this team has been a wonderful experience for me. We work efficiently together to provide the very best service to all our patients.
I am originally from Venezuela. I am very close to my family and have an adorable three-year-old niece who melts my heart. In my free time, I love to dance and spend time with friends. I am very happy to be of service to you all and provide the best service possible.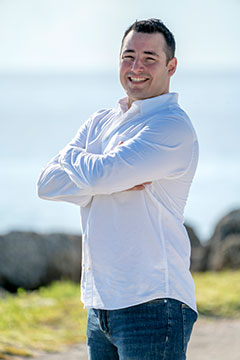 Diego
Orthodontic Assistant
I graduated in Venezuela with Bachelor's degree as a general dentist in 2007. When I moved to Miami, I had the opportunity to start working in the orthodontic field as an orthodontic assistant. My role involves ensuring the care and well-being of each patient during their time with us. I really enjoy seeing our patients happy in the results of their treatment. I also enjoy being able to steal a smile from each patient during their adjustment!
I am a very friendly person who likes to spend time with family and friends at home. I love playing basketball, going to the gym, watching movies, as well as watching soccer on TV!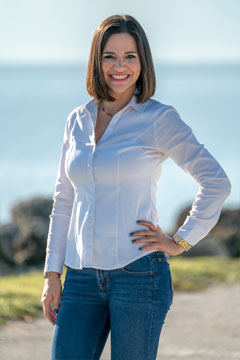 Joralix
Orthodontic Assistant
I graduated from the University of Zulia in Maracaibo, Venezuela as a general dentist in 2002. Joining Miami Braces this year, I patients by reactivating and changing wires, taking impressions, and communicating with the lab to keep up with our patients' devices. While I like working with patients of all ages, spending time with children is the best. I think it's extremely important to make a good connection with them to make them feel comfortable. I work with an excellent group that is always helping each other and where harmony and companionship prevails. Our joy is contagious, and it makes our patients feel super happy to be here!
I love to smile and share it with others, always willing to help where I can give the very best of me. I have a beautiful family that consists of three super loving children, our pet Luna, my husband, and my parents. Going to church and being together with my family are my biggest hobbies.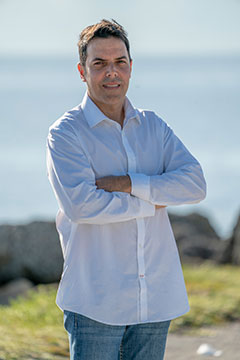 Halston
Orthodontic Assistant
In 1996, I began my studies at the dental school in Venezuela, UCV Caracas. After graduating, I attended the Central University of Venezuela and the Naval School of Venezuela. I earned my specialty title in orthodontics from Maimonides University in 2009 and spent several years as Training Director in Orthodontics at the College of Odontology of Venezuela. Upon moving to the US, I attended Miami Dade College for continuing education and my registered dental assistant certificate.
I am grateful to every opportunity that God has given me to learn from each person I meet. It is beautiful to return the smile, trust, and hope to so many people.
I love being outside with nature and animals, and am passionate about sports, including tennis and karate. I am family oriented and love learning about all things, from the political to the scientific. I enjoy traveling and experiencing the cultures and customs of different people.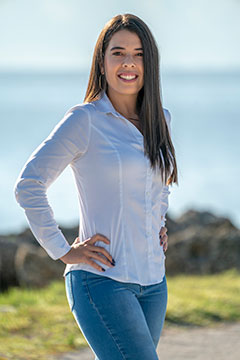 Daniela Jimenez
Front Desk Associate